Hello Loves!

Welcome to The Barefoot Rabbit. I hope you can make yourself at home and join me on my adventures in growing from backyard gardener, to (hopefully) one day having a more self-sufficient homestead. In a world where convenience and instant gratification rule, I am striving to bring my family back to the beauty and wonder of simple pleasures like growing food, preserving, and scratch cooking. While not quite at square one, I am still new to these endeavors, and I hope by bringing you along with me we can learn and grow together. Armed only with a spacious backyard, (very much in town) and knowledge I have cobbled together, I started this all by remembering the wonder and amazement I used to feel as a kid in my grandparents' yard picking muscadines and running through sugar cane patches. I want to capture that as an adult and give my kids those moments. I also want to teach them that food isn't just what they see at the grocery store. Food is a process and a labor of love, and our homes are our sanctuary. I am not an expert, but I am learning, and I usually manage to land a joke here and there so this should at least be entertaining. Join in and hopefully take something with you and pass it on. I am ready to share and cultivate a love for natural wonder and copious joy in my home, and maybe yours too. So, kick off your shoes and let's get to work!


Yours- Jennifer, the rabbit
---
Life is like the baseball season, where even the best team loses at least a third of its games, and even the worst team has its days of brilliance. The goal is not to win every game but to win more than you lose, and if you do that often enough, in the end you may find you have won it all. -Harold S.Kushner
-May 27th, 2023

I don't think it is any coincidence that the most fruitful season of gardening and baseball season take place at the same time. I honestly prefer fall and winter weather, but the brutal heat in the south means fresh produce and baseball games (and lightening bugs of course). These two things have always overlapped and just this past week I started to realize that it is a theme that never rests in my warm weather life. My most recent purchase form Amazon started this thought – clear notebook pockets to store and safely peruse my seed collection. Instant flashback to the notebooks my cousins and I would bring to our grandparents for Sunday dinner. First page displayed our favorites, which back then were some of the best Atlanta Braves ever to play the game. Sid Bream, David Justice, Greg Maddox, and John Smoltz were my prized cards. The 1996 Beckett priced that David Justice card at $99. Not merely a printed piece of cardboard! This was a treasure. Sitting in my grandparent's front room I would covet the collection of my oldest cousin Shannon. Shannon had a job and a car (with a sunroof, so cool) and could buy her own baseball cards whenever she wanted. Every big player was represented. Holograms, gold series, Pop-Up Topps cards, she had them all. The best ones neatly presented in perfect clear pockets perfect to flip through countless times and chat about baseball moments we held in our hearts.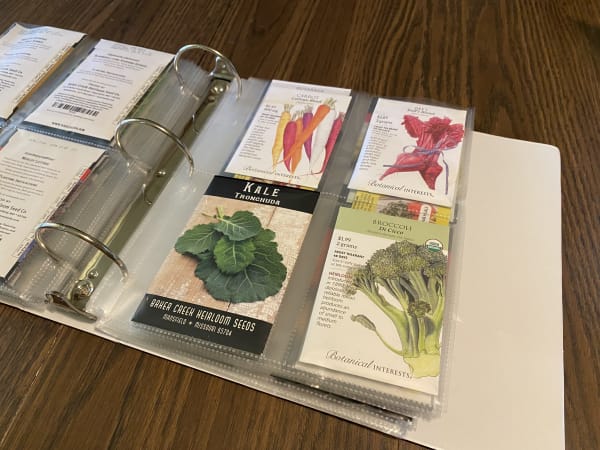 Fast forward to now, thirty years have seen baseball cards drift from the forefront of kids lives. I am a millennial approaching middle age and my joy comes from my God, my family, and my backyard garden. Seed catalogs are the highlight of my winter as I flip through considering the possibilities for the coming year. However, all that deep contemplation goes out the window as I place my order. The internet calls and the mass lists I have compiled for my favorite and most needed seeds are ignored as I do what can only be called stream of conscious seed shopping. I usually am working with a self-imposed spending limit and one or two MUST HAVES. I open the packages of new seeds with the same reverence I showed those Topps and Pinnacle cards of my youth. I organize them into Ziplock bags labeled with whatever category I have deemed appropriate: Front bed, early spring, next fall. I will reassess my stacks multiple times during the season. Every time I plant, I say goodbye to empty packs or glue my favorites into my garden journal. And now I will have a seed book. A place to flip and flit and gawk at my seed packets. Today it's less about how much money a sleeve might hold, it's about the possible harvest. Potential lives in every envelope. Behind every beautiful picture. Some will disappoint me, and some, like my precious Braves, will do so multiple times. But just like those Atlanta heroes, they will bring good times in the sun, precious memories, and if things go my way, I might just win it all.
---
I want a house with a crowded table. -The Highwomen
-May 9, 2023
When I close my eyes and think of my happy place I'm small again, barefoot and looking down at my bruised legs. It's a warm day and there is a soft breeze. I am under a climbing tree next to a rock affectionately named Fred Flintstone. I can smell muscadines and their leaves with the lingering scent of bacon and eggs from the morning. Birds are chirping and a hammer is hammering away behind me. In my mouth is a piece of sugar cane leaking its sweet juice down my chin. The world is safe and everyone that I love is just inside a house that Jack built. I'm in my grandparent's yard in South Georgia. This was a place of absolute wonder for me as a child. It's the place I fell in love with all things I hold dear today. Family, plants, vinyl records, holidays, cooking, and Jesus were placed in my hands and heart there in that home my grandfather built himself, down a long sandy driveway.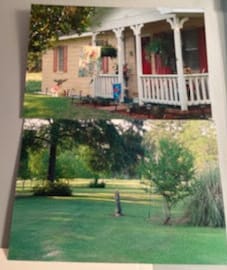 My grandparents, survivors of the Great Depression, were resourceful and smart. Little was wasted – even day-old bread could feed the birds. Fruit seeds would be set on a windowsill to dry and take a shot at a life in the garden. Everyone had a tree or bush or rose planted just for them. A very old gopher tortoise even made it a stop on his quarterly jaunt to the small creek that ran through the woods past the back of the property. It held all the magic that one little girl could dream up in that couple of acres. Fresh slices of tomato and pickles from a dusty jar were common on my grandmother's table and no one left hungry or without a hug and prayer over them. The muscadines and scuppernongs that grew fat and juicy made everything from homemade wine to preserves and many a wild vine popped out along the yard from quick snacks the birds and kids made from them.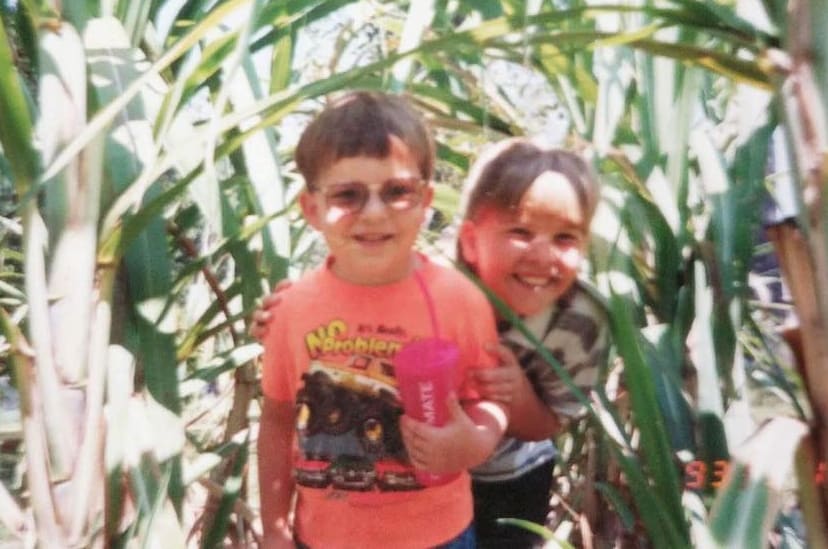 Today, every time I step into my own back yard, I am reminded of what I carried forward from that place. Not a place I can visit anymore, even most of the people who made it home are gone. What remains of them, and it, however, are still real and palpable. When I received my very own pressure canner this past Christmas or when I save my bacon grease from breakfast, I can feel them. As I welcome people into my home and lose hours in the backyard talking, laughing or teaching my own children about how a seed becomes a green bean it's like their hand on my shoulder guiding their legacy and memory through to the next generation.

This simple foundation full of wonder and magic hasn't always been at the front of my mind. For years I wrestled with what I wanted. The balance a young adult must have to establish their roots anywhere is delicate. I have gone through many phases and periods of wanting different things some lofty, expensive, or glamourous and none felt authentic. But when I met my now husband, we half joked about a goat farm. We bought pepper plants and tomato starts and pushed them into the soil with hope and love. We drove our babies into the country to enjoy lakes and campsites and simple things that brought tan lines and laugh lines to our bodies and somewhere along the line it all came back to me.

What I want now is what I have truly always wanted. To build a home, to plant a garden, to bake bread and make a dinner that can make the people I love smile. It's not too lofty a goal. It's simple. That took time to work out. Is that enough; To want to be simple and safe and loved and share that with others. After grappling with it for a few years I have realized not only is it enough, it is everything. It's the foundation for a life and so much more. So as I start on this new part of my journey and share with you all what I know and also what I don't I hope that it honors those beautiful people and places that taught me what they knew. I hope it can inspire you to settle into the simple. May it bring in the ones you love around your table and give them a place to feel safe, and maybe a touch of magic.
---
It is spring again. The Earth is like a child that knows poems. – Rainer Maria Rilke
-May 2, 2023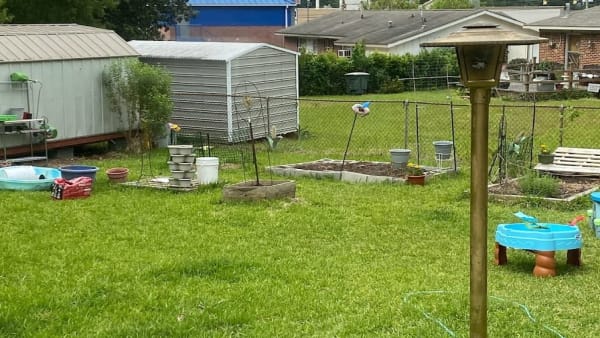 I have started this year intending to learn the Earth's poems and revel in the beauty they bring! It's May, and although I have been working in and on my garden for weeks now, I feel like yesterday a grand opening ribbon was cut and the official season has started. Much to my husband's dismay, I keep finding places to till up, and containers to fill up with dirt, and plants, and seeds, and hope. As for now, aside from my amazing year-round oregano plant and a few marigolds, it looks like dirt and a hodgepodge of containers and fence. But everyday I walk outside to find a new plant baby raising its little green leaves into the world and sparking more inspiration in me for what this space in my yard could be.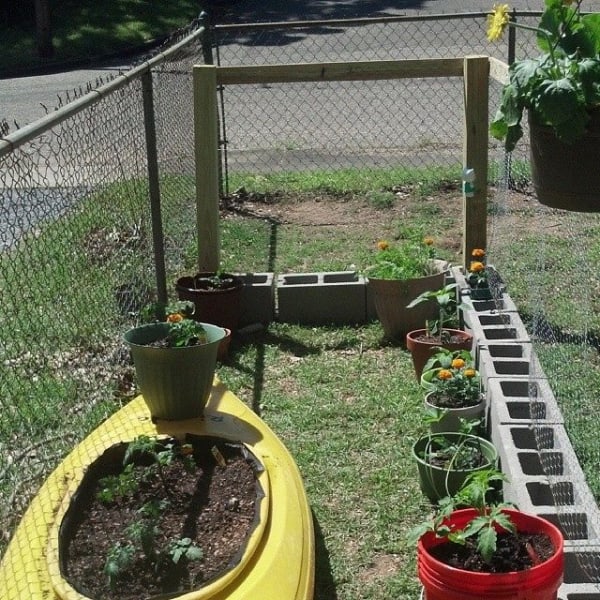 This morning I looked back at my first "real" backyard garden that I started back in 2013. It was in the front yard and all containers (including an old kayak) and it was the tiny spark that started this dream of mine. Those little carrots and heads of lettuce were sparse, but they were delicious. Here I am now taking up a large portion of my backyard and hoping for more than the year before every spring. Turns out, more than the year before has been quite a leap since 2013. A little bit more knowledge and a little bit more attention to detail. Patience and anticipation have also been the two battling feelings I have learned to cherish.

The question now is what is my why. Why am I ready to do more, plant more, spend more money, time, and back yard space on this hobby? I have this beautiful wish for self sufficient living. I will admit it seems a bit lofty since I currently have the neon glow of a dollar store and a service station lighting my evening jaunts through my backyard oasis. But as I plot space for my chicken house and find a few more feet to plow up to fit the newest purchase from Baker's Creek Seeds I can feel the future me calling out and thanking me for this time.

Jessica Sowards of Roots and Refuge (a huge blessing to me and my gardening hopes and dreams. Everyone should follow her) famously says, "Turn your waiting room into a classroom". Let me tell you this is the best advice for anyone who wants to grow a few tomatoes to make the best salsa or, like me, yearns for a simple life of plenty that is all my own. I have a lovely, big backyard with great soil and plenty of room for all my kid's playground equipment AND my garden. This blessing could be ignored for lack of perfection, but instead I am choosing to make it all I can. I am learning SO much everyday about the life I hope to live, even without the land and sprawling fields I hope to have one day.

So, this is my platform to share my journey. My failures will be documented beside my triumphs. The garden is a large part of it but so is scratch cooking, homeschooling, herbalism, foraging, and general lifestyle changes that lead me to the final goal. When I am finally standing there, on that land that is my own, with a glow from the moon and stars and not the neon glow of midtown, I will know my time was not wasted.
---